Filming Cornish Music and musicians is one of our specialities. And this was a special night!
I've known of Will Keating's reputation as a singer for a couple of years. But I'd never actually seen him perform until he asked us to film the Cornish Folk Concert that he was organising at The Poly in Falmouth.
The Oggymen
Will can usually be found singing with a Falmouth based male vocal group known as The Oggymen . But in 2016, he took the decision to also try his luck at gigging alone. Totally inspired by Cornwall's rich History and Heritage, and the songs penned by his mentor Harry "Safari" Glasson, he hit the road! He combines Harry's songs with traditional Cornish and Celtic folk songs and has received accolades from far and wide.
Will has performed all over Cornwall and beyond with The Oggymen and as a soloist. Venues include Hall for Cornwall, Minack Theatre, Falmouth International Sea Shanty Festival, Porthleven Food & Music Festival, Falmouth Oyster Festival and Looe Music Festival. And he has made 2 tours to the Isles of Scilly.
Going it alone
Will did what so many people dream of doing but never dare. He left his full time job working for Skinners Ales late 2015 and starting gigging in March 2016. With four daughters to support it was a gamble that had to pay off. And pay off it has. Today Will is one of the best known Cornish artists, and also one of the hardest working. Performing sometimes 2 or more shows a day, he often has to rush from one gig to another, which is never easy on Cornish roads. But he always delivers a great show.
Will's first solo album
Will released his eagerly anticipated first solo album in November 2017 to great acclaim. The album celebrates the song writing of Harry Glasson. It includes two live tracks recorded at Will's sell out Cornish Folk Concert held in the historic St Senara's Church, Zennor. Special guests included a 53 piece Cornish primary school girls choir. Plus award winning banjo player John Dowling, The Oggymen, and the fabulous Helston Town Band.
The Poly Concert
It was a full house at The Poly as Cornish Music lovers turned out for a great evening of entertainment. There were a variety of artists collaborating, all sharing their love of Cornish music. And providing top quality music too. Because it's great to see good music in a good venue with good sound and no distractions. The way music should be heard and enjoyed!
Will's guests included renowned Cornish folk duo Neil Davey and Jen Dyer (Davey & Dyer) on Bouzouki and Viola. On Fiddle the fantastic Lizzie Pridmore (Salt & Sky) and on accordion, Padstows finest, Kevin Brinn (The Stowes).
The Poly advertised it as a fun filled evening of Cornish Folk – and that's what it turned out to be. A group of great musicians and good friends coming together and having fun!.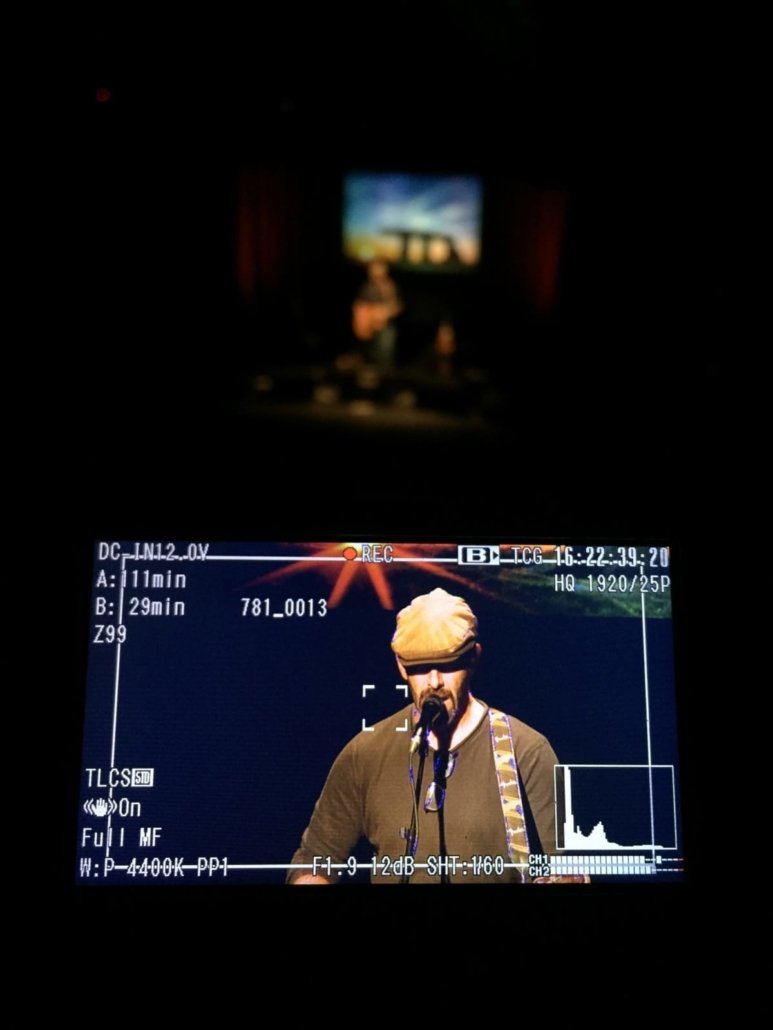 Music editing
And after the concert we had the pleasure of working with not only Will but with his special guests Neil Davey and Jen Dyer – Davey and Dyer on producing edits of some of the highlights of the concert for their respective websites.